News October/November 2004:
Our newish look super-slim site is back... without the crap bits! So without further ado, let's get on with the partying...
The SMERSH crew are packing their bucket & spades and heading off to THE SEASIDE - well, close enough to dip their toes in... Saturday, 30th October sees the NEW CHAPTER away team of Mark Houghton, Stevie C, Girth Devon, Niki Golding & Paul Thrower taking over SOULFUL @ Cagneys (under the Hilton Hotel) in Bournemouth. They will be bringing along all your Smersh favourites, anthems & just a few surprises as well. Not had the Smersh experience before? Then now's the time. Its running from 8pm til 2am and don't be late - you do not want to miss ANY of the soulful fun. Need more info just see the Event Calendar or mail Jason at soulful_at_cagneys@hotmail.com.
November gets off to it's usual flying soulful start on Wednesday 3rd with A NEW CHAPTER @ SMERSH, 5 Ravey St (off Great Eastern Street), Shoreditch with residents Girth Devon, Mark Houghton & Stevie C.If you haven't yet checked it out then perhaps its high time you did. You'll be amazed at the regulars (& DJs for that matter). Most of em need counselling for drink problems (they can't get enough) or dancing lessons (and lots of em) - a real unique bunch. I know that YOU are gonna fit right in !!!!!!. The very special guests for the next one will be the flowerpot men - Binsy & Ben (Summers). Definitely one not to miss. As usual its an early start - around 6.30pm and goes through til around midnight. Respec'.
Niki Golding has been a very busy lass lately. Renowned for her love of all things Philly, Disco & Boogie she's put the lot together in her latest compilation for Suss'd Records, the home of SALSOUL in the UK. "Salsoul Presents: Philly Soul Flavas" is released on 22nd November and to kick the album off in style the launch party happens on Friday 5th November @ the Medicine Bar, 89 Great Eastern Street, Shoreditch. Playing alongside Reckless Records Jeremy Newall it's gonna be a night of 70s disco, jazz-funk, big 12-inches. Contact Niki@soulboys.co.uk to get on the guestlist. Have a look at the Salsoul.co.uk website for more information on their reissue and CD comp catalogue - and while you're about it check out Niki's other compilation for the label "Disco Divas & Soulful Sista Flavas" and Acid Jazz man Eddie Piller's "Crossover Flavas". Now get out your platform shoes and boogie on down to the Medicine Bar!!

We've waited all year and it's finally here. Without a shadow of a doubt the very best soul weekender of the annual calendar, TOGETHERNESS begins on Friday 12th November at the Cala Gran, Fleetwood, Lancs. With live acts this time round from ARCHIE BELL & THE DRELLS and GARLAND GREEN... it really doesn't get any better than this. There are three rooms - The Modern Room covers new stuff, RnB, anthems & soulful house, The famous Tent reaches the parts that other weekenders cannot reach with the cream of 70s crossover & rare soul, and then there's the Northern Room for stomping 60s soul, funny outfits and talcum powder on the dancefloor. As usual those nice folks at Expansion Records have released a CD to accompany the event - "Togetherness 2004" contains all the best soul tunes of the year like the Sunburst Band, Mike Jiminez and Darrell Nulisch and a couple of all-time Modern Soul anthems such as Flower "For Real" , Bill Harris "Am I Cold Am I Hot" and We The People "Making My Daydream Real". If you really love soul music then this is the event of the year... and us Soulboys can hardly wait...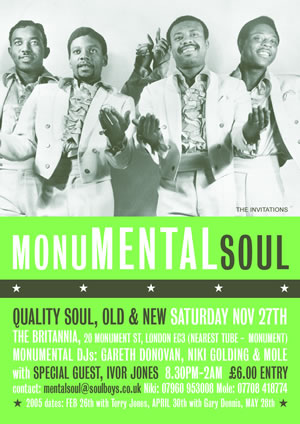 The last Saturday in November - the 27th sees another episode of the MENTALness. MonuMENTAL SOUL or Mental Soul as it is affectionally known. Again it's at The Britannia, 20 Monument St, London EC3 and this time features special guest IVOR "Friend to Garland Green" JONES - ??? Curious??? Ask to see the photo!!!. He'll be there alongside the new regular DJ team of Niki Golding, Girth Devon & Mole. The last MENTAL Soul on September 25th was a corker, with top soul girl Selina celebrating her birthday in great style and with visitors from as far afield as Yorkshire (yes oop North!). It's great to have it back. Things will kick off around 8.30pm and keep you bouncing along nicely til 2am - its £6 in and you can get more info from the Event Calendar or from Niki at mentalsoul@soulboys.co.uk.
Signing off for now,
The mystery news writer(s).
News March 2004:
We start off the month as always at SMERSH with A New Chapter on Wednesday 3rd. Last month saw yet another mobbed out soulful experience. We need a bigger venue for this monthly do I feel. The walls are groaning under the strain month in month out!!! This month should be no exception as we have Eddie Piller on the decks. This old bugger has been around the soul scene for a long, long time so he knows a thing or too. I'm looking forward to this as we rarely get the man Djing in this country for some reason. Having said that he did recently DJ down at Bournemouth and he went down A Storm. Apparently Ms A. Storm wasn't happy about this and is in discussions with her legal team as we speak ;o) Joining Eddie will be two of the regulars, from Mark 'Ranieri' Houghton, Girth Devon & Stevie Cee. Who will be left on the bench this month then?
Friday 5th see the start of the third Prestatyn Midnight Hour Soul Weekender, yipppeeeeeee!!! Now I wrote about this last month so just scroll down to see details about this weekender. We do have an update though. Unfortunately The Masqueraders have pulled out, but the good news is that Bobby Hutton has replaced them at very short notice. What a nice chap. The other bit of news is that this weekender has sold out. So if you haven't already booked up, UNLUCKY!!!! See you at the bar Friday afternoon, I'll be the drunk one with a grin from ear to ear :o)
If you were thinking of going to the next Plinston Hall on the Friday 19th then I'm afraid it's been cancelled. I'm told this is due to 'unforeseen circumstances outside of our control'. Well I'm glad we sorted that out then!
March 20th is the date of the next 'Soulful'@ Cagneys in Bournemouth. This is always a great night and the music that gets played is right across the board as long as it's….ermm well Soulful. Held at a night club underneath the Hilton Hotel it always has a lively atmosphere and plenty of alcohol fuelled punters. This time around we have Steve Hobbs, Dennis Probert, Johhny Mac, Teeeeeeee Davies, Paul Thrower and Lee Rothman. I think you'll need your dancing shoes then!!!!!
If you can't make it to Bournemouth on the 20th then there's also the first Get Involved. It takes place at The Pheonix, 37 Cavendish Square central London. Ivor Jones is running this and he'll be joined at the decks by Gary Dennis, Simon Dunmore & Bob Jones. You can buy a ticket before hand from Crazy Beat (01708 228678) or from Ivor (07901 652933) and it'll cost you £5. You can also get in on the night for £7. Should be a night of quality soul music and it'll be good to hear Dr Bob playing SOUL music.
Saturday the 27th sees the second Monumental Soul night. At the moment we have Terry Jones and Ben Summers confirmed, but we expect another guest to announced nearer the time. I'm writing this before the first Monumental Soul so I can't really say how it was, but I'm sure it'll be a well attended affair with everybody having a great time and lots of falling over. Anyway it's TJ playing this time and you wouldn't miss that would you? No I didn't think so. The venue is The Britannia, 20 Monument Street and it's a about a minutes walk from Monument underground station.
Signing off for now,
The mystery news writer.
News February 2004:
Well it must be SMERSH time again I think. Wednesday the 4th sees two guests you lucky people you. Mike Ritson and Lee Rothman will be joining the regulars Girth and Mark Houghton. Stevie Cee will be missing this month from the decks, but I dare say he'll be there at the bar (goodboy!). Now we all know Mike as the MD of Manifesto magazine, but he's also got a great collection of the soulful stuff. He did some shows on soul24-7 a while back and they we're top class so we can expect the same quality here. And as for Lee Rothman, well we just know him from being a drunken tw*t!!! The atmosphere in this little bar is fantastic and I really do recommend it to anybody who loves their soul music with a capital S. I know it's on a Wednesday night, but it really is worth the effort. SMERSH can be found (if you look hard enough) at Ravey Street, just off Great Eastern Street.
Now for all you lovers out there on Saturday 14th we have Valentines Philly Soul Special. This is taking place at the Bricklayers Arms in Charlotte Road in Shoreditch (where else!). DJs are Jackie Wilson look-a-like Charlie Mitchelle, Brian & our own Niki Golding. Well did you really expect Niki not to be Djing at a Philly night!!!! Entrance is free and partying starts at 7pm and it finishes at midnight. I can't make this myself (boo) as I'm doing the Valentine thing, yep paying over the odds for a crap warmed up meal ;o)
Saturday 21st is the next Treacle Soul at the Litten Tree in Hemel Hempstead. Music starts at 7:30 with lights out at about 11:30ish. As well as Marcus Djing we also have Niki, Dave Blow, John the Jester & Sean Daley joining him at the decks. With a line up like that if you close your eyes and stand in the corner you might think you was at the Sebright :o) The last one had a good turn out of punters and we even had the natives joining in dancing to a bit of Northern thanks to Stavros. Now if anybody can get a floor moving it's our Niki so just move the pool tables off the dance floor. I'm sure the locals won't mind honest!!! Oh and it's free of course.
On Saturday the 28th we have a brand new soul night in London (about bloody time). Monumental Soul takes place at The Britannia, 20 Monument, EC3. The venue is about fifty yards away from Monument station so it'll be easy to get to. The promoters of this night are Mark Houghton and Colin Brown of Setting the Standard fame along with Gary Thomas. It starts at 9pm and goes on until 2am with admission only being £6. To start this new night off in style we have three guests in the shape of Ivor Jones, Shay & Fish. Music we understand will be anything from Crossover to the more soulful of new releases and everything between. It's about time we had a regular real SOUL do in London on a weekend so this could kick off big time. See you at the bar & mines a large one!!!!
There you go that's all for this month. It's a bit quiet I know. However I think it's worth mentioning the Prestatyn Weekender early. It's on the Friday 4th and goes on until late Sunday 7th, staying until the Monday. Now last year was flipping great, the hi-lite being Ann Nesby's live PA. What a voice this lady has, absolutely stunning. Now this year we have Phil Perry live!!!!!! Although I've not seen him live (yet) he really does have a great voice. Really looking forward to this on the Friday night. It's a four roomed affair so plenty of choice for everybody. In the Modern room we have Chris Anderson, Gareth Donovan (Girth), Arthur Fenn, Steve Jackson, Mick Farrer, Steve Hobbs, Mark Simpson, Ivor Jones, Mark Randle, Paul Sutton & more. The Northern Room has Andy Rix, Roger Banks, Mark Bicknell, Tim Brown, Dave Rimmer, Mick H, Pat Brady, Rob Smith & more. Now to be honest I'm not a Northern room person, however it was rammed last year and you could hardly get on the dance floor which says it all in my book. You'll find me in the Modern room, especially with a line up like that!!!!!! Now I know there are a few names missing (like TJ), but I really do think the line up is one of the best I've seen for a weekender. There will also be a 24 hour radio station. Oh yeah and the third room is at the Queen Vic pub next to the Modern room. Friday night will see a London Calling night, with sets from various nights in London, "These Old Shoes", "The Dome", "ScenesVille" & "Talk Of The South". Saturday night is a 60ts R&B special & Sunday is a Connoisseurs Night. The fourth room is only on Friday & Saturday nights and has an Oldies All-Nighter with Dave Evison, Keith Minshull, Brian Rae & Snowy. Phil Perry isn't the only live PA either, Saturday night we have The Masqueraders, Baby Washington & Melvin Davis in the Northern room.
Signing off for now,
The mystery news writer.
News January 2004:
Well that's another year flown by then. I could waffle on about how great it was, but this is a news page not a review page (any volunteers?).
Right, we start the month off as usual with SMERSH on the 7th. The last one was a great success with Niki, Alfie and the residents playing some great, great SOUL music. I don't think you could have got another person in the venue if you tried. We even got Gary Dennis for a night out without his better half!!!!! This month it's the turn of Mark 'Binsy' Taylor to spin with, Mark Houghton, Girth Devon & Stevie Cee. Now I've not heard Binsy spin before, but he used to DJ at the Norfolk with TJ (nuff said) & I know what he likes so it should be another blinder.
Saturday the 10th sees another Treacle Soul at The Litten Tree in Hemel Hempstead. Put on by the penguin attacking Marcus Bell, the last one was a great success. This time around joining Marcus will be Dave Blow, Stavros & ScouserPaul. Stavros played a wicked set at the last Soul Village Weekender on the Saturday afternoon and he also regularly plays at Big Stu's soul kitchen. ScouserPaul can turn his hand to House and Modern so you'll just have to get yourself there to find out what he plays this time around. Blowey likes his Jazz and expect some modern soul gems from Marcus. The pub is on Leverstock Green Road in Hemel which is five minutes from the M1. Oh and if you have a pet penguin leave it at home!!!

After a month off in December Plinston Hall returns on Friday 16th. This months guests are Butch & Mick Smith and from what I understand both are doing a spot in the northern room and the modern room (along with Soul Sam) so that should be interesting. Will they be able to keep the high standards that Soul Sam and Terry Jones set in November? Let's hope so, they certainly have the collections to do it.
Soulful @ Cagney's is changing to every other month this year if the rumours are right. Saturday 17th is the first one of 2004 and it looks like a great line up again. Ray Rose, Roger Williams, Simon Petts, Ralph Jefferson join Valatone's Soulful Chris and our Niki this time around, so get yourself down to Bournemouth for another great night of soul music. You never know we might be joined by a dozen or so firemen again!!!
Now as well as spinning at SMERSH this month Mark 'Binsy' Taylor is also celebrating his 40th on the 23rd at On the Rocks, Kingsland Road. We've got Niki, Val Palmer, Eddie Piller & the magnificent Ivor Jones playing at this one so we're guaranteed quality soul music with these DJs. So if you haven't been invited…. UNLUCKY!!!!!! Happy Birthday Binsy you old bastard.
Now on the following Sunday, the 25th there's something a bit special in store. The Grapevine alldayer at Bar Lorca kicks off at 1pm and goes on…… well all day really! It should finish up about midnight and the list of DJs is an impressive one. I can't be asked to list them all here (a more comprehensive list can be found on the events calendar), but it includes Niki (she gets about a bit this bird doesn't she), Gavin Page, Johnny T, Mark Randle, Roger Banks, Brummie Mick and ….. (drum roll)… Terry Jones. So get the Monday booked off work & get yourself down to Brixton Road. And don't worry the local A&E ward has been warned.!!!
Time to tell you all about a few new things being released soon. First up is Phillip Michell's "Just The Beginning", this contains twenty previously unreleased tracks recorded in the early seventies. We can thank those lovely people at Grapevine for this release so it should be good. Tracks will include his version of Corey Blake's "How Can I Go On Without You" (he wrote it you know) & "Home Is Where The Heart Is" and there will be some unheard of stuff on there too. Grapevine will also be re-issuing the Corey Blake choooone on a seven too, so we'll all be able to afford it.
Simon White compiled "On The Real Side" last year on Castle music and so we now have a follow up to look forward to. It's called "Flying High" and if it's anything like the first one it'll be a stormer. Tracks include "Don't Take Your Love From Me" by New Sounds, "Falling Out Of Love" by Derek Martin & "Raining In My Back Yard" by The Moments (we like this one). Should be out now actually.
Signing off for now,
The mystery news writer.
News December 2003:
First off there has been a domain name change. You might want to change your links to www.soulboys.co.uk, the other links are re-directed to here mind so they should all still work. Please report any broken links to niki@soulboys.co.uk
Right I suppose we'll tell you all about some up and coming do's. First off on Wednesday 3rd December is another session of "A New Chapter". Along with the regulars Mark Houghton, Stevie Cee & Girth Devon are this months special guests Alfie and the lovely Niki Golding!!! For those who love their quality choones you can't afford to miss this soulful extravaganza, come on is there anything else to do on a Wednesday night!!!!! This takes place at SMERSH BAR, 5 Ravey Street, London EC2, not far from Old Street station & Liverpool Street station. Starts at 6:30 and finishes about 11:30 and best of all it's free. You never know Girth might turn up on time. Oh and watch out for the stairs, penguins have been known to fall down these!!!!
Saturday 6th December sees the Christmas edition of Valatone. DJ's are Johnny T, Phil Beckwith, Buey, Soulful Chris, Arthur Fenn & Gavin Page. This has become so much more than just the warm up to the 100 club and is a great do in it's own right, anybody who knows Phil will tell you he has an amazing collection and Arthur Fenn is on fire at the moment. We tried to set Gavin on fire, but he just kept drinking the cans of petrol. Venue is St. Aloysious Club, 20 Phoenix Road, London, NW1. It's just around the corner from Euston Station. Starts at 8pm and finishes at midnight and it's £4 to get in.
The next Soulshyne has moved to a Saturday so we can all get drunk with out having to worry about getting up to do a days work in the morning. This is no problem for D'Arcy who never does a days work (he does like to moan though). It's on the 20th December at the Ocean Rooms, starts at 10pm and finishes at 2am. DJ's include Cleveland Anderson, Gavin Page, Teee Davis & Girth Devon. Tickets are priced £10.
This years Xmas Soul Crusin' takes place on Sunday 21st December. If you want a ticket I suggest you hurry. To contact Captain Farrer e-mail him on soulman1707@yahoo.co.uk. Now if you're a fan of 70ts soul then this is the place to be bar none. I've never heard a bad set played on the downstairs deck on this boat. To be honest I don't think I've ever seen a sober person on the boat either, which makes it a not to miss do (Clarkey can sometimes be found feeding the fish). DJ's include Gary Dennis, Steve Hobbs, Mick Farrer, Chris Brown, Sarah Watts, Pete Smedley & Conrad Bool.
Saturday 27th December is the date of the next Soul at the Sebright. Don't miss this one as Jester & Niki are celebrating their Birthdays, and Jester said he's buying every punter a drink!!!! Now you can't say fairer than that. Starts at 7pm and will go on until midnight. The Sebright is dead easy to find as it's only five minutes from junction 23 of the M25 & junction 1 of the A1(M). It's on the Alston Road, Barnet. DJ's are Jester, Gilo, Niki Golding & Lee Rothman. It's also free to get in so if you want to burn away those Xmas calories get yourself down there. You might even see Dave the landlord smile, we thought we caught him smiling once, but he was just grimacing to cover up a fart!
Looking for somewhere to go on New Years Eve? Well you'll be pleased to know that the Double Shot is back. It's at the same venue as last year The Wheatsheaf, 25 Rathbone Place, London, W1. It's just off Oxford Street a few hundred yards from the 100 Club. It starts at seven and finishes at 3am. Upstairs will be Ben Summers, John Browne, Andy Mann & John Weston. Playing downstairs is Miles Eastwick, Teee Davis, Paul Sutton and Girth Devon. Now I would like to say that last year was a blinding event, but if the truth be known I can't remember a bloody thing. I was told I seemed to be having a good time coz I was grinning all night, well they do say ignorance is bliss!!! It's also a certain Queen of Cheese's birthday that night so no doubt there will be a few messy soulboys around to see in the new year. Don't forget that buses & the underground are free all night (cheers Ken).
Now a quick guide of some new releases I think you might like.
I know that Village Soul isn't that new a release, but it's just so flipping good we had to say something about it. So many outstanding tracks on here it's difficult to know where to begin. Let's just say it's probably Expansion records best release to date and we know how many great compilation albums they have done over the years. Compiled by some bloke called Terry Jones who we've never heard of before. Standout tracks for me are Karan Pree's "Make Love Last Forever", Corey Glover's "Little Girl", Bares Hammond's "Do This World A Favour", "Tell It Like It Is" by The Marriotts, "There's Not To Many More" by Jo Armstead and of course the sublime Sandra Wright's "I'll Come Running Back". For me though the track that makes me go all of a quiver is "Sha-La Bandit" by Delores Hall, a remarkable piece of soul music that just HAS to be played again & again & again.
Dottie Pearson recorded "A House Made Of Love" back in 1978, but it never got released. We don't know why so don't ask. Anyway those lovely people at Grapevine records have finally put it out if only on CD (boooooo, we want vinyl!!!!!). A truly stunning LP, which makes you wonder just why it's taken 25 years to get released. The whole album is strong, but tracks worth a special mention are "I Don't Want Nobody", "Bring It Over Baby", the funky "Look Around" & "Imagine Me". If you like a bit of 70ts soul, just buy it. If you don't think it's the best thing you've heard this year you can call me Susan.
Ever heard a sixteen year old blue-eyed girl from Devon sing soul, me neither. However there's a storm brewing about Joss Stone who is just that (a sixteen year old Devon girl that is, not Stoned). Now I've not heard this yet, but anybody who's anybody who has listened to this just can't stop raving about it. Is it all just hype or is it really that good? The CD features the likes of Angie Stone, Latimore & Betty Wright so this must add weight to the argument. If you've got it let us know what you think by putting an entry on the forum about soul music, it not the usual thing to do I know, but why not give it a go!!!!